>> Sunday, February 28, 2010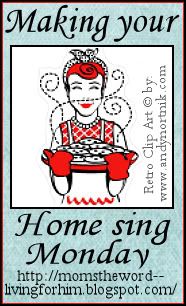 This is my first time to be a part of "Home Singing Mondays" hosted by Moms the Word. This is such a great idea!! Thanks, Nan.

This week is my birthday week, so I plan to do some things that I've been needing to do and been wanting to do. First, the cleaning started this weekend. And I mean REAL cleaning!! The "get down and dirty" cleaning has been neglected for a while, so the house is desperate. I'm tired of looking at all the dust and grime everywhere. So... I'm motivated to work!!

At least, today! Tomorrow is my birthday, so the cleaning may have to wait. Maybe that's something the kids can give me~~ A sparkling clean home!! One son will do anything to get out of doing his schoolwork! Tee Hee! Hmmm, I must think about this some more...

Of course, I need to wash some of those "lost" clothes. They're lost in that huge pile in the laundry room. Hopefully, I can squeeze myself in there to get to the washer.

Another thing that needs to be done is the menu planning. I say this probably every week. But I tend to "wing it" more often than I like. Winging it just doesn't come naturally to me since I'm not a bird!!

So, you see, there are a lot of things that I need to do to make my home sing. We'll see how things go...After all, it is my birthday WEEK!! LOL!