>> Monday, March 15, 2010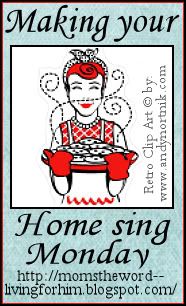 Yes, I've been busy with my home these last few days. After cleaning the laundry room, I've been motivated to declutter more. But what comes with it is...

Convictions! This week the Lord has been dealing with me about how I've been using His time that He has given me. My priorities have been out of whack. Old habits have crept up over the last 3 or 4 months that are hard to break...again.

For one thing, this blogging thing can be a trap for me!!! I enjoy it too much. So, in order for my home to sing, then my choices need to lead in that direction. Nan asked the question, "Who does your home reflect?" Well, I want my home to reflect Christ. But...


God is not a God of disorder but of peace. 1 Corinthians 14:33
A quote from Marilyn Rockett in her book,
Homeschooling at the Speed of Life
:
God gives instruction to His people to do things decently and in order because that reflects Who He is. Chaos in the things we do, whether it's in our worship or our homes or our lives, does not please Him.
Wow! That is a favorite quote of mine! I desire so much to please God, but is my home reflecting Him and pleasing Him? Am I being a good steward of what He has given me? Time is a gift from God. Have I been wasting His gift? Lately, yes! I need to be
purposeful
with my time. So, what does that entail for me?
Planning ahead. Making a schedule and sticking to it!! Menu planning. Shopping strategies, instead of just winging it. More intentional homeschool days with sons. Planned organization and decluttering...and sticking to it!!
The list could go on and on...
All these things used to be a part of our lives, but they have flown out the window in the last few months. I miss the days of structure. They give me a peace of mind, not cluttery thoughts.
So, this is my plan. I will be more intentional to plan out my days. School work will be planned 2 weeks in advance. Chores will be planned out and the time that they need to be accomplished. While I am working on decluttering the kitchen and pantry, a menu will be planned. Also, the grocery list and coupons will be updated. My expense notebook will be updated at each and every purchase. AND I will only be on the computer for 30 minutes 3 times a day!!!
I have to admit, that last one hurts!! I know that my list seems rather vague and too much to work on at one time. But my life and my home needs it! With God's grace, He will enable me to accomplish the things He desires for me to do. So, keep me in your prayers. And check back to keep me accountable!!! I will post about this along and along. I will leave you with another quote from Marilyn Rockett:
Purposeful family living relates to organization that relates to self-discipline that relates to diligence that relates to commitment. Self-discipline is a mutual effort between the indwelling Holy Spirit and our will yielded to God's authority~ something in which we all can improve. The path is not the end; it is the means. To be the family God has designed, we must have commitment; but commitment won't take us anywhere without diligence in the means to get there. Diligence requires self-discipline or self-control (a fruit of the Spirit, Galatians 5:22-23) that leads to organization in the best sense of the word~ those choices we make~ which produces purposeful family living that gives glory to God.
Making my home sing~ to the glory of God!!!