>> Monday, April 26, 2010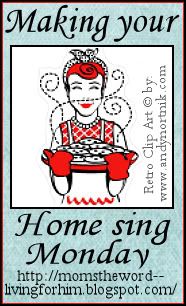 Last week, my home was not singing very much due my attitude. Well, the first part of the week was okay, but by the Wednesday, nothin' was singing. I certainly was not singing, and my kids weren't either. Let's be brutally honest here, I had a temper tantrum!!!

Yep! I said it; I admit it. I had a down right temper tantrum about my son and his schoolwork. Why?

Mostly because I lost my vision and the proper perspective of education. Why do we homeschool? Well there are many, many reasons why we do what we do, but some days I forget!!!!

My son struggles, which then I struggle. I struggle inwardly with fear. Is he ever gonna get it?? Will he ever have a better attitude about his education?? Why is it always a battle with this kid??

I am learning (the hard way), that his attitude is a direct response to MY attitude!!! I am reflecting an attitude of fear of academic failure, which then leads to his attitude of hating to do his schoolwork.

God is gracious enough to show me my waywardness in this. He is gracious enough to show me my sin in this!!! And yes, I admit that this is a sin!! I have asked my son, and my Heavenly Father to forgive me. Now we are gaining a fresh perspective TOGETHER about education and the importance of OUR attitudes.

So, this week is all about gaining a fresh perspective on education and what God says about education. Are we singing? No, not really, but maybe a little humming!

Thank God for His forgiveness and grace!!