>> Sunday, April 18, 2010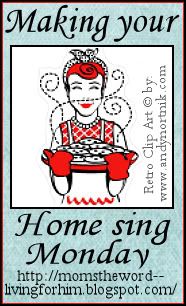 I read Nan's post for this week about trying to be the perfect homemaker, mom, and wife. Well, I have to say that I was quite encouraged! Thanks Nan!!

I have to admit... I struggle with this. I expect perfectionism from myself, along with my husband and my kids!! When it comes to making plans for the week, be it school plans, menu plans, chore plans, decluttering plans, or whatever else I could come up with, and they don't happen like I would want them to...Well I get a little irritated!!! I can plan so much for the week and end up so disappointed at the end of the week. Especially when it's about my decluttering or cleaning plans.

Life happens...plans have to be changed, altered, rearranged... to meet the needs of others or something more pressing.

I am learning the hard way to make my plans, and then give them to the Lord. Only He knows what the day holds. Only He knows what it is that I need to learn that day. I just need to learn to give it to Him.

I am getting into the habit of making intentional plans for my week and homeschool. It keeps me focused during the day. BUT I have to trust God that He knows better than I do what needs to be done. So when MY plans don't work out the way I want them to, then I have to make myself remember that He is in control.

BUT, I also have to reevaluate myself to see if there are areas where I am being lazy and idle with my hands when I should have been more intentional to get things done. Believe me, I have to watch myself...If I turn on this crazy computer and even glance at my blog or emails...I can be on it for an hour without even realizing it!!!!!

Perfection...we will never reach it, but we still should strive to be better each day. What can I do today that I didn't do so well at yesterday? Do I need to apologize to someone today? Do I need to forget my plans so that I can focus on playing a game with my kids? What are my priorities? Following my plans to the point of frustration, or letting go of them to maintain peace in my home?

My plans for this week are to get back into the swing of things with schoolwork and homemaking chores... How broad is that? But taking a week off makes it difficult to get back to normal life. So if we make it to Friday with a somewhat normal amount of schoolwork done, with a half way decent menu plan, and the house somewhat in order, then I will be satisfied at the end of the week. Perfect? No, but that's okay...Well, at least for this week! LOL!