>> Sunday, September 26, 2010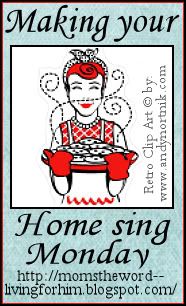 Well, at least, I'm trying to get back to a routine. This chaos is driving me crazy. I miss having a routine, a somewhat of a schedule. But with new baby, all of that was thrown out the window. AND with dh's new work schedule, with him being home more often, really has messed me up. It's nice having him home, of course, BUT he can be a bit of a distraction!

With this past week with our homeschool finally getting under way, a routine is definitely needed. So, I'm not going to wait any longer to establish that routine, again. Like Nan said, what am I waiting for?

So, this week I am going to focus on the weekly clean up and decluttering schedule. AND following a menu plan. That is a must!! I really miss my menu plan.

We'll see how it goes.

Now, I must get to my screaming baby...

Happy Singing!