>> Monday, December 6, 2010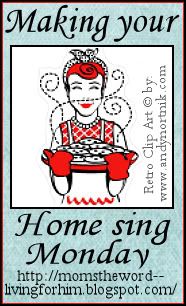 The last couple of weeks has been a time of reflection and just plain ol' nothin". What I mean is, a time to just do a bunch of nothin'.

I have been so caught up in the frenzy of trying to stay afloat among all of the trials, that I was losing all sense of joy. Just trying to remain calm amidst the storm, was becoming impossible. So, with Thanksgiving and a week with my son being sick, I just used that time to relax.

We put away all school work, along with a lot of the chores, (which we now are working on to catch up on) and just enjoyed ourselves.

Are we behind on everything? Absolutely!! But right now I don't care. I'm okay with it. We will get the things done that need to be done, but in God's timing.

I'm slowly learning to let go and let God decide what needs to be done. Does that mean that I have let go of all responsibility? No! But, right now at least, I am relaxed about it all. Will I be this way next week? I certainly hope so. I am so tired of fretting so much. I'm just simply tired of trying to keep up with the Jones'!!

Our homeschool is so far from perfect, as the name suggests, and I'm learning to be okay with it...Finally!! I think!! :) My home is in a "functionally" cluttered state at the moment. And right now I'm okay with that, as well. So, my home is singing among the functional chaos and it's alright with me.

I've been having such a hard time for so long that I just needed to step back and reflect. Trying to do everything with a new baby was proving to be impossible. I can't do school like we used to and I can't keep up with the house like I used to. I can't even keep up with daily meals anymore, but we are surviving! We haven't missed a meal yet, it just may not be the best meal at the time. So, my kids are learning to be thankful for what they get. :)

Much needed time off! And I'm thankful for it.