>> Sunday, March 20, 2011
We go through tough times and we go through smooth, easy times. But in it all, through it all, HE is there. While you're going through those tough times, its easy to forget His Presence, His Sovereignty, and His Love. And in those smooth, easy times, oh how easy it is to remember!

Or, during your tough trials, you can remember that He IS always there, with you, keeping you, holding you tight, to get you through it... in His Love.

The trials should be the catalyst in your relationship with Him. Drawing you closer to Him. That is how my many trials have been for me. A force pulling me toward Him, like gravity. Closer to His Love, getting to know Him more in His Sovereignty. Knowing Him... and ultimately knowing myself more.

Seeing the sin that so easily entangles me!!

And strangely enough, I'm thankful!! I'm so thankful to see and recognize that I haven't arrived. But the fact that I am recognizing this shows me that He loves me and is still working on me. He disciplines me because He loves me, and He is molding me and making me more like His Son.

And I say, thank you!

Thank you, Jesus, for the gifts you give. Large and small, seen and unseen, thank you!

And the counting continues...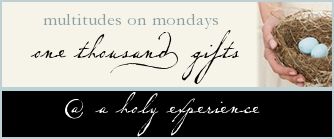 36. New friends.
37. Meeting up with friends that we haven't seen in a long while.
38. Homeschool Conventions!!
39. Encouragement from those who have gone before us...
40. Confirmation on our "narrow path" convictions.
41. Seeing Tim Hawkins live~ he's so funny!
42. The ability to buy some new things for our family's education and pleasure.
43. My new computer!
44. A husband who bought that new computer for me...
45. Lasagna from the freezer.
46. Books... and more books... I just love books!

Have you joined the journey yet? If not, consider what gifts He has given you today, and start counting them with me. Until next time...

Keep Pursuing Him!