>> Monday, February 28, 2011
If you have read any of my posts lately, it is quite evident that things have been a struggle, to say the least. And yet, life goes on.


But God is so good to me, an
unworthy
saint, to lead me to things that I need to read and/or hear, that puts things into proper perspective. One of those things is a message by Elisabeth Elliot titled,
"The Gift of Suffering."
Say, what?? The gift of SUFFERING??? How can suffering be a gift? Well, for one, God says that He disciplines those He loves. (Proverbs 3:11-12) And, Jesus tells us to "deny ourselves, and take up our cross..." (Matthew 16:24-27)
This message, and others by Elisabeth Elliot, have really helped me lately to step back and consider things differently. (I am loving my itouch, since I can download these messages, among other things, and I can listen to them whenever I feel the need to be reminded!! LOL!)
Another thing is this wonderful book by Ann Voskamp,
One Thousand Gifts: A Dare to Live Fully Right Where You Are.
I have already begun counting my 1000 Gifts a while back in a
previous post
, but shamefully it has just been sitting and waiting for me to continue!! And now that I have started reading this book, on my handy-dandy itouch kindle, I am ready to open my eyes and to recognize the little gifts, again.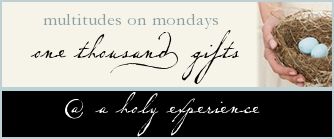 11. Slobbery kisses from a 7 month old.
12. Hugs every morning from an 11 year old.
13. Talks with my 14 year old, knowing that teenagers need their mommies, too.
14. My hubby's new work schedule, even when its hard to get used to. It really is a gift from God.
15. The fact that my husband has a job!!!!!
16. Feet running to help when they hear their baby brother crying.
17. Baby brother laughing at his big brothers. He loves them so!
18. Computers... even when they give you troubles!
19. Husbands who know how to work on troubling computers! :)
20. Sleepless nights... knowing that there is a baby who needs his mommy. And she is there to give him what he needs. Yes, I am thankful for this!!! :)
21. My itouch. Have I mentioned that I really like this thing??? Hee Hee!
22. My new treadmill!!!!! Some wives would be mad for receiving this as a gift from their husbands, but not me! Thank you, Honey.
23. My Bible... need I say more??
24. Laughter with friends, knowing that they accept me anyway!

So, join me. How has the God of the Universe touched you lately? Maybe things haven't been so easy for you, either, but we have to make ourselves look for the little things... the little ways that He touches us with Himself. Isn't that what its all about??

Until Next Time, Keep Pursuing Him!


Read more...